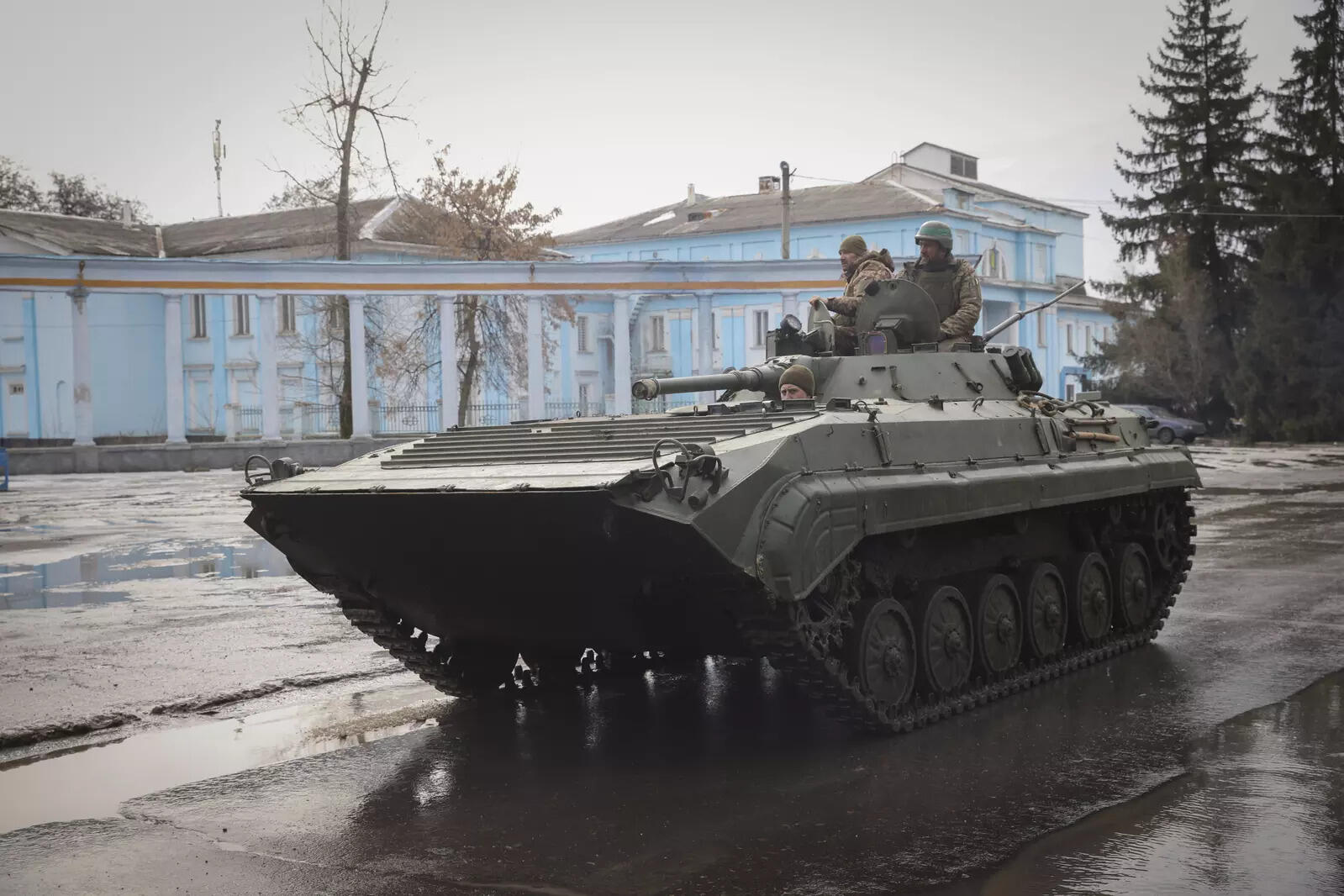 CHASIV YAR: Ukrainian forces clinging to the eastern city of Bakhmut dug new trenches in an attempt to hold back Russian attackers, as the United States said new military aid for
Ukraine
would be discussed at a meeting with Germany's leader on Friday.
Russian forces have been attacking Bakhmut in Donetsk province for months, sometimes in waves and the site has become one of the bloodiest battles of the war.
"Fighting is going on in Bakhmut round the clock…The situation is critical," Volodymyr Nazarenko, a deputy commander in the National Guard of Ukraine, told Ukrainian NV Radio.
"They take no account of their losses in trying to take the city by assault. The task of our forces in Bakhmut is to inflict as many losses on the enemy as possible. Every metre of Ukrainian land costs hundreds of lives to the enemy."
In the past 24 hours Ukrainian forces repelled more than 85 attacks in the five principal sectors of the Bakhmut front line, the General Staff of the Ukraine Military said on Friday.
Russia, which lost territory in the second half of 2022, says taking Bakhmut would be a step towards seizing the rest of the surrounding industrial region known as the Donbas. Ukraine says the city has limited strategic value but wants to exhaust Russian forces.
In nearby towns and villages, new trenches had been dug on the roadside 20-40 metres (65-130 feet) apart, a sign that Ukrainian forces were strengthening defensive positions.
"We need as much ammunition as possible. There are many more Russians here than we have ammunition to destroy them," Nazarenko said. "The number of enemy soldiers is not what matters. What matters is technology."
The General Staff said in its morning report that Russia continued to target civilians, something Moscow denies, with air and missile strikes in Donetsk, Zaporizhzhia and Kherson Oblasts.
"The enemy continues to violate the norms of International Humanitarian Law. There are wounded civilians, high-rise apartment buildings and private houses are damaged," it said.
In the Zaporizhzhia and Kherson regions more than 45 settlements came under Russian fire in the past 24 hours, said the General Staff.
It said Russian mercenaries were stealing cars in the occupied Zaporizhzhia Oblast region from residents who did not have a Russian passport and forcing peoiple in Boiove settlement of Kherson Oblast to hand over their land titles.
"As of March 1 of this year, about 200 people from this village were taken to an unknown destination for the so-called filtration measures, and Russian mercenaries have been accommodated in their houses."
Reuters could not independently verify the battlefield reports.
Concerns about China
Washington will announce a new $400 million military aid package for the Kyiv government, and is expected to be a major topic between US President Joe Biden and German Chancellor Olaf Scholz when they meet at the White House, officials said.
The aid is expected to comprise mainly ammunition including Guided Multiple Launch Rocket System (GMLRS) for HIMARS launchers, ammunition for Bradley Fighting Vehicles, as well as armoured vehicle launched bridges, two US officials and a person familiar with the package said.
The United States has provided nearly $32 billion in weaponry to Ukraine to defend itself against Russia, which invaded its pro-Western neighbour on Feb. 24 last year.
Biden and Scholz could also touched on concerns that China may provide lethal aid to Russia, a senior administration official said.
The Biden administration is sounding out close allies about the possibility of imposing new sanctions on China if Beijing provides military support to Russia, US officials and other sources said. China has denied considering such assistance, and US officials have not publicly provided evidence for their suspicions.
Asked by reporters whether potential sanctions against China would be a topic for Biden and Scholz, White House national security spokesman John Kirby said "the issue of a third party support to Russia could come up."
International chill
The year-long conflict has killed thousands, displaced millions, pulverised Ukrainian cities, shaken the global economy and created a Cold War chill in international relations.
Russia says its "special military operation" aims to degrade the Ukrainian military and remove what it says is a threat to its own security. Ukraine and its allies accuse Moscow of an unprovoked war to grab territory.
Just before Russia's invasion, Chinese leader Xi Jinping and Russian President Vladimir Putin met to seal a "no limits" partnership between their countries that has caused anxiety in the West.
At the G20 foreign ministers meeting, US Secretary of State Antony Blinken told Russian Foreign Minister Sergei Lavrov to end the war and urged Moscow to reverse its suspension of the New START (Strategic Arms Reduction Treaty) on nuclear weapons, a senior US official said.
It was the first in person encounter between the top diplomats since the invasion. The Russian foreign ministry said Lavrov and Blinken spoke "on the move" for less than 10 minutes.
Russia accused the West of blackmail and threats and said it had China's support for its position as the meeting ended without a joint statement.
Speaking at a forum in the Indian capital on Friday, Blinken said Russia cannot be allowed to wage war with impunity, otherwise it would send "a message to would-be aggressors everywhere that they may be able to get away with it too."