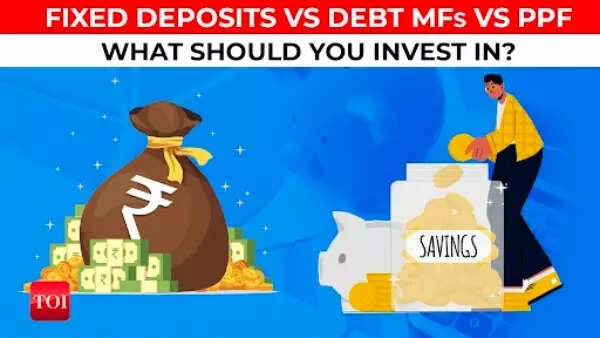 Fixed deposit interest rates are touching several year highs and as an investor you may be wondering if this is the right time to put your money in FDs. In fact, for the first time in several years banks are offering inflation-beating real returns on FDs.
The Reserve Bank of India (RBI) has hiked the repo rate by 250 basis points since the rate hike cycle began last year. Repo rate is the rate at which the RBI lends money to the banks. At present it stands at 6.50%. In line with that banks have hiked the interest rates it offers on FDs as well, making them a very attractive investment and savings bet.
In this week's episode of TOI Wallet Talks, Harshvardhan Roongta the CFP of Roongta Securities talks about the importance of asset allocation and why it is the right time to put your money into debt instruments.
Fixed Deposit interest rates high: FDs, PPF or debt MFs, which is best investment option?
But within debt investment, are bank fixed deposits the way to go? Are fixed income investments like debt mutual funds and Public Provident Fund (PPF) better investment avenues? Watch the TOI Wallet Talks video above to know what should be your go to investment – fixed deposits, debt MFs or PPF?
Roongta also talks about the returns offered by post office savings schemes and senior citizens saving schemes. Effective April 1, the limit on deposits in senior citizens savings schemes has been doubled from Rs 15 lakh to Rs 30 lakh.
According to Roongta, tax implication is an important factor to take into consideration. Hence while choosing between various fixed income instruments, the interest rates should not be the only driving principle, but also the post tax returns.
With March 31, 2023 approaching, Roongta also offers some last minute tax planning tips if you are planning to invest in fixed income instruments.