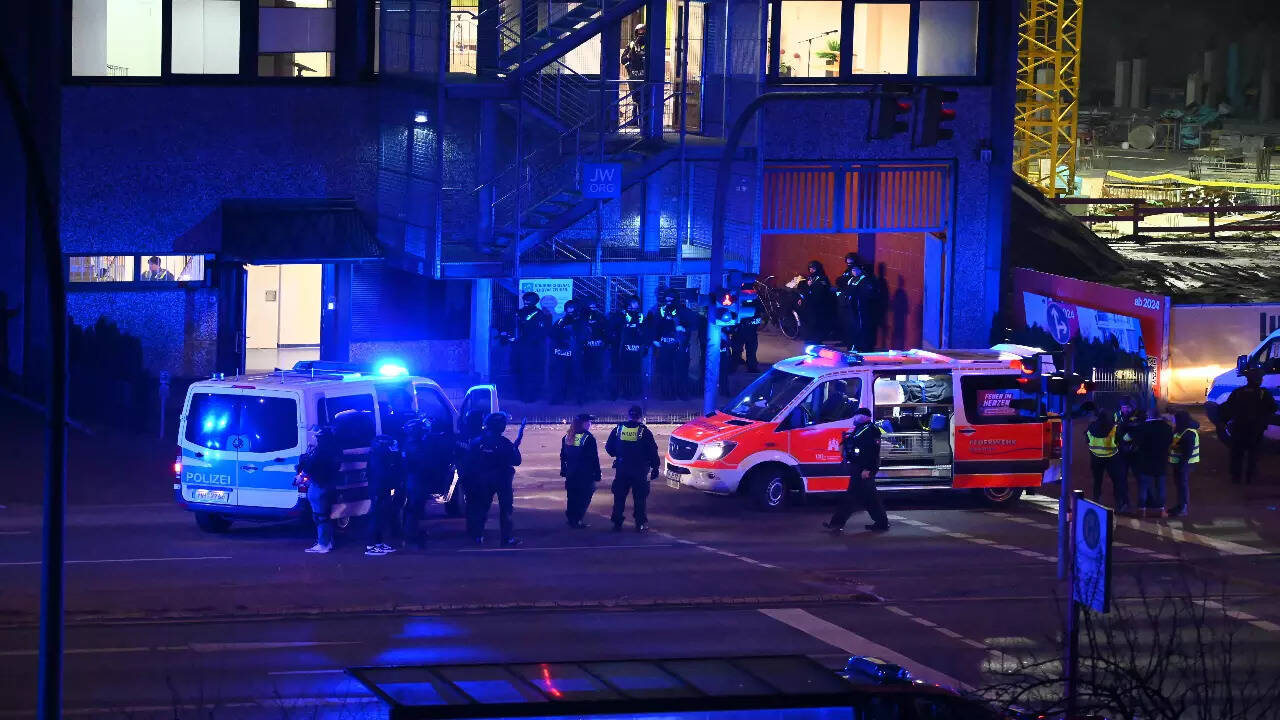 HAMBURG
: German police reported on Thursday that several people were killed in a shooting at a
Jehovah's Witness center
in Hamburg, with the suspect believed to be among the dead.
The incident was first reported around 9.15pm local time (2015 GMT) when emergency calls were made after gunshots were heard at the building in northern Hamburg. Police found several people seriously injured, with some fatally wounded, at the scene.
"We only know that several people died here; several people are wounded, they were taken to hospitals," police spokesman Holger Vehren said .
There is currently no reliable information on the motive of the crime, and police are urging people not to speculate.
Television footage showed dozens of police cars as well as fire engines blocking off streets and some people, wrapped in blankets, being led by emergency service workers into a bus.
"We heard shots," one unnamed witness told reporters. "There were 12 continuous shots… then we saw how people were taken away in black bags," he added.
Police have also warned residents in the area to stay indoors and avoid the area, and have cordoned off streets surrounding the building. Although the exact death toll has not been released, several German media outlets have reported that at least seven people were killed.
A catastrophe warning app was used by police to sound the alarm for "extreme danger" in the area. The spokesperson for the police confirmed that they have no indications of a perpetrator on the run. They believe that the suspect may have been in the building and could even be among the dead.
The mayor of Hamburg, Peter Tschentscher, expressed his shock and sent his sympathies to the victims' families, tweeting that emergency services were doing their utmost to clarify the situation.
Jehovah's witness
Jehovah's Witnesses are part of an international church, founded in the United States in the 19th century and headquartered in Warwick, New York. It claims a worldwide membership of about 8.7 million, with about 170,000 in Germany.
Members are known for their evangelistic efforts that include knocking on doors and distributing literature in public squares. The denomination's distinctive practices include a refusal to bear arms, receive blood transfusions, salute a national flag or participate in secular government.
Several attacks in recent years
Germany has experienced several attacks in recent years, both by jihadists and far-right extremists. In December 2016, a truck rampage at a Berlin Christmas market killed 12 people, with the Tunisian attacker, a failed asylum seeker, being a supporter of the Islamic State jihadist group.
Between 2013 and 2021, the number of Islamists considered dangerous in the country had multiplied by five to 615, according to interior ministry data.
In February 2020, a far-right extremist shot dead ten people and wounded five others in the central German city of Hanau. In 2019, two people were killed after a neo-Nazi tried to storm a synagogue in Halle on the Jewish holiday of Yom Kippur, sparking accusations that the government was not doing enough to stamp out neo-Nazi violence.Watch Germany: Shooting at Jehovah's Witness Hall in Hamburg, several dead