INDORE: The Holkar Stadium pitch is bald as a cue ball at the extremities, and on this day there are two rather odd-looking rectangular patches around the left-hander's off-stump at either end, as if two bar-code stamps have been abruptly yanked off at these places.
At one end a runny line of what can only be described as 'reddish-soil-pitch-matter' trails off from a good length area. There is some grass apparent through the middle, and on this sweltering Sunday afternoon, unexpected heat for this time of year, there is generous watering too.
The surface is being preened and polished for the big occasion, the third Test between India and Australia starting from Wednesday. There is a veritable army of ground staff fussing and fretting over their latest creation. The pitch, after all, is a vital cog in India's Test machinations at home.
Just a few feet away, India coach Rahul Dravid adopts a no-interference policy. Instead his eyes are focused on the struggling KL Rahul, who has decided to have an extensive nets session. Eventually it is Suryakumar Yadav who saunters up for a brief chat with the 'pitch people'. In between, a 'bounce' test is also carried out with a red ball, though the attempt is abandoned midway.
To any watching Australian eyes, this is all hoodoo, intended to conjure up instant fear. It is becoming increasingly exasperating for visiting batsmen to read these pitches, the varying properties of the soil from one venue to another, the extent of turn and wear. This leads to the kind of crippling doubt and injudicious strokeplay that has blighted Australia's campaign so far in this series.
Even when these supposedly undercooked pitches have failed to serve up the expected diet of poisonous turn and toxic natural variation, they have controlled the narrative, sometimes even undermining the efforts of India's excellent attack.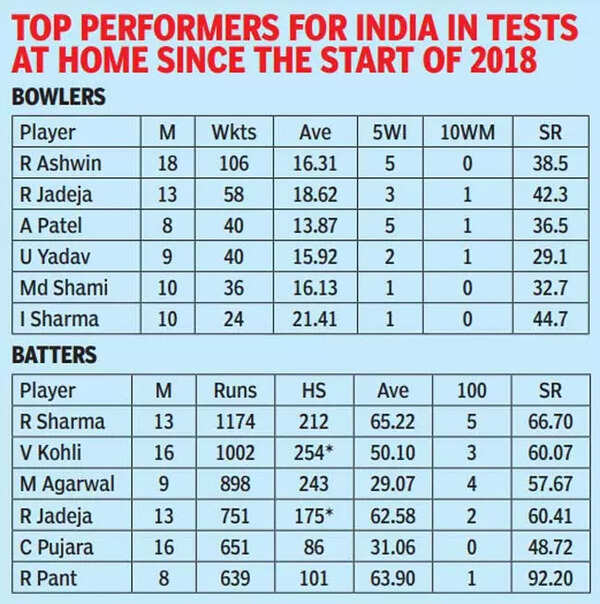 Visiting teams often tend to deride India's sublime bowling performances on these so-called 'doctored' wickets, but for reference, just see the turn of events in the previous Test of this series at the Ferozeshah Kotla, where Australia imploded from a position of strength on the third morning. They played the pitch and not so much India's bowlers.
Such surfaces have been the focal point, along with the precise, penetrative and relentless attack, of India's complete domination and mastery of spin-friendly home conditions now stretching back a decade. The mastery of the bowlers has meant the top order has often had to sacrifice its hunger for big, easy home runs in the quest for victory.
Leading 2-0 in this fourgame series heading into Indore, India have won 15 consecutive home series in a streak stretching back to February 2013. Just how good have India been?
The great Australian teams of the 90s won 10 series in succession between Nov 1994 to Jan 2001, and again 10 in succession the following decade between July 2004 and December 2008.
Among the top three teams at home since the start of 2018, India have an 88.89 win percentage, compared to Australia's 69.23% and New Zealand's 68.42%. Since the start of 2013, India have won 81.82% of their home games, or 36 out of 44 played. They have lost just two.
These are some serious numbers and it can be argued that at least at home, India have been one of Test cricket's greatest teams over the past decade. In 2019, India became the first team in Test history to notch up 4 successive wins by an innings. Of the 16 (out of 18) Tests India have won at home since 2018, they have won 2 inside 2 days, 9 inside 3 days, 4 in 4 days and only 1 in the full 5 days.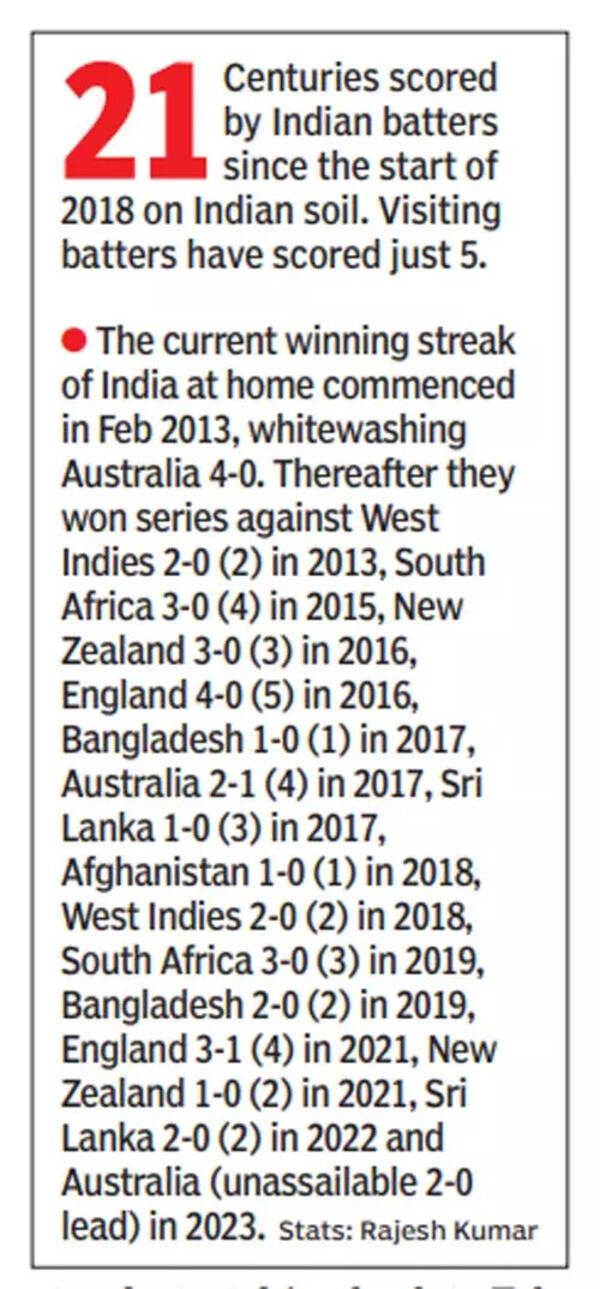 Does this mean Steve Smith and Co. cannot win in Indore, or even stretch the game the distance? Certainly not. After all, they did have their moments in Delhi. However, they are up against a formidable attack which knows how to intelligently exploit home conditions.
It is quite a challenge the Aussies must now embrace.