Sania Mirza
's father and coach Imran Mirza talks about the phenomenal career of his star daughter.
SANIA IN THE MAKING
In tennis, it is not possible to come up without a struggle despite the money you have. It is very risky, but we managed to find sponsors. We had to take a lot of nonsense from a lot of them funding her because she did not have a name then. They were doing it almost like a favour. There was a time when for a junior we needed around Rs 50 lakh per year for her travel. You cannot make it to the professional circuit without playing at the junior level, especially coming from India.
We have always been a sporting family. There are mostly cricketers in the family who played and enjoyed the game at various levels. We followed tennis also closely. I thought tennis would be a better choice for a girl. My wife put her in Nizam Club when she was six years old. Within a week I got a call from the coach that I need to come and watch her play.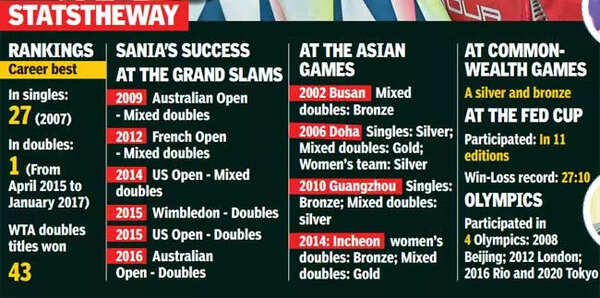 For six months, I avoided. Then we were also struggling financially. I had to leave work. But when I did go, I could see it. I also used to cover sport at that time. Then it was not like she is going to win Wimbledon. It was more like she will become something in the state, get a rank in India. We enjoyed every moment, whether it was state ranking U-10, where she reached the final.
We completely removed parental pressure from her game. It was never about winning, always about enjoying the game. She kept on performing, we kept on encouraging her. At 14 she was the youngest to play junior Wimbledon and won a round there in 2001.
WTA TITLE AND SOARING EXPECTATIONS
The 2005 title led to a lot of expectations. She won the title as a wild card after coming back from the Australian Open, where she had played third round against Serena Williams. That was when everyone expected her to get to No. 1 in the world or 5. The media asked me then if she would get to No. 1, and I told them that she has quite a few flaws in her technique and physically I do not think she can get to No. 1. I felt she had the potential to be No. 1 in doubles. That was 10 years before she became No. 1.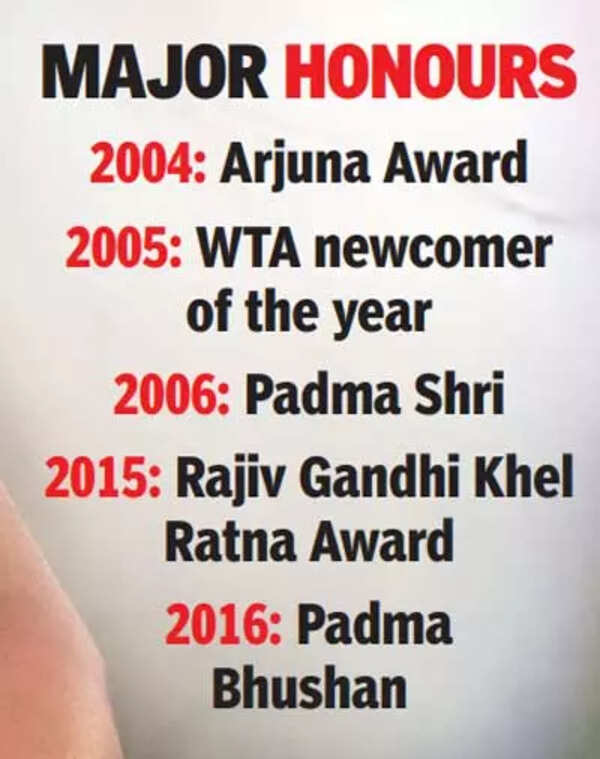 INJURY AND SWITCH TO DOUBLES
She was a singles player first and foremost. For 10 years after she became a professional in 2002-03, she focused on singles. Tennis is a physically demanding sport, especially on an Indian body. We do not have the right development at 7, 8, 9, when you begin like in foreign countries.
With the game she had, it was physically demanding given her strokeplay — to use every joint of her body to generate the power she did. People had predicted she would have injuries. But she also played through a lot of pain. That is something remarkable about her.
She had to undergo three surgeries. For almost a year after her wrist surgery, she was in pain. She had the support of the family. To become No. 1 in the world after that and win so many Grand Slams was phenomenal. She had her technical flaws because she was not taught properly when she was growing up. But she overcame all that through her mental toughness, which sets her apart from others.
BEST PARTNERSHIPS
Obviously with Martina Hingis. That was the best at that moment, lasted a decade. They gelled well. They were both champions at heart. They won 41 matches in a row and three Grand Slams in a row, starting with Wimbledon. And Wimbledon was the most exciting. They were always coming from behind and still managed to turn the tables.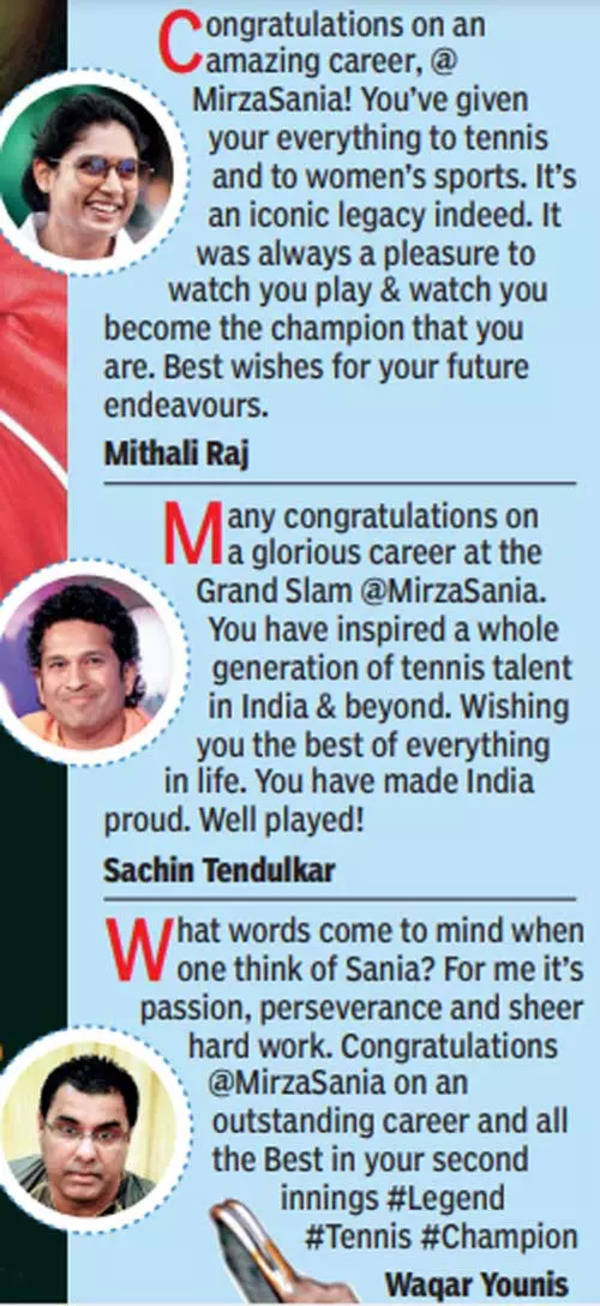 GRAND SLAM SUCCESSES
The first one was very special. It came with Mahesh Bhupathi in 2009 after they had lost the final in 2008. Winning the Australian Open with Bhupathi, a close friend and an Indian, was remarkable. When they lost in 2008, she was badly injured and in 2009 before the final again she was badly injured. She got some special treatment done as it was extremely painful for her to get on court for the final. They still managed to win.
MOTHERHOOD AND CHANGES
It was very important for her to make a point that life for a woman does not end after marriage, childbirth. Even one or two days before her delivery she was hitting the ball on the court without moving because she wanted to stay active.
Post-delivery she got working on her physical fitness with her trainer and worked extremely hard with her diet. Initially people mocked her that she would never come back. That made her more determined. She always wanted to have a child by the courtside. It was a dream come true at the Australian Open, having her son enjoy the moment.
(As told to Jac Gladson)