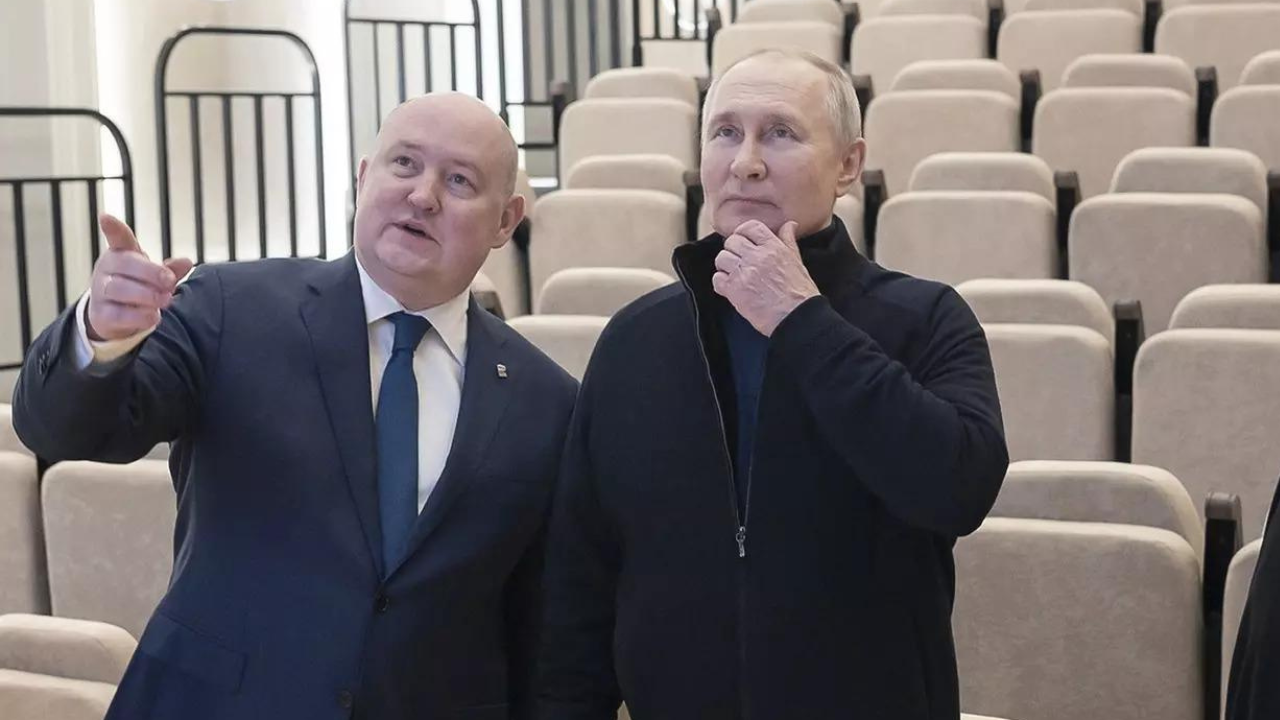 MOSCOW: Russian President
Vladimir Putin
on Saturday visited Crimea to mark the ninth anniversary of the peninsula's annexation, a day after the International Criminal Court issued an arrest warrant for him over the
Ukraine
conflict.
Turkey announced the extension of a deal that has allowed Ukraine to export grain following
Russia
's offensive, but Kyiv and Moscow disagreed over the length of the extension.
Putin's surprise visit to Crimea was his first to the peninsula since he sent troops to Ukraine on February 24 last year, apart from when he drove across the bridge linking the territory to mainland Russia last December.
Russian state TV showed him visiting the Black Sea port city of Sevastopol, accompanied by the local Moscow-appointed governor Mikhail Razvozhayev.
Razvozhayev said on the messaging app Telegram that Putin had been expected to take part in the opening of a children's art school by video link.
"But Vladimir Vladimirovich came in person. Himself. Behind the wheel. Because on such a historic day, the president is always with Sevastopol and the people of Sevastopol," he said.
Russia annexed Crimea from Ukraine in 2014 following a referendum that was not recognised by Kyiv and the international community.
Speaking at the Davos forum in January, President Volodymyr Zelensky said Ukraine aimed to take back Crimea, "our land". Moscow has refused to include it in possible peace talks.
– 'Void' ICC warrant – Putin's visit came a day after the International Criminal Court issued an arrest warrant for him over the "deportation" of Ukrainian children.
Kyiv says more than 16,000 Ukrainian children have been deported to Russia since the start of the conflict last year, many of them placed in institutions and foster homes.
ICC prosecutor Karim Khan told AFP Friday that Putin was now liable for arrest if he set foot in any of the court's more than 120 member states.
The 70-year-old Russian leader has yet to publicly comment on the warrant.
But the Kremlin dismissed the legal validity of the warrant, arguing that since Russia did not recognise the ICC's jurisdiction, it was "void".
The Hague-based court's decision came ahead of Chinese leader Xi Jinping's visit to Moscow next week to sign accords ushering in a new era of ties. Xi will be in Russia from Monday to Wednesday.
China, a major Russian ally, has sought to position itself as a neutral party, urging Moscow and Kyiv to resolve the conflict through negotiations.
But Western leaders have repeatedly criticised Beijing for failing to condemn Russia's offensive, accusing it of providing Moscow with diplomatic cover for its campaign.
– Grain deal extended – In Ankara, Turkish President Recep Tayyip Erdogan said the two sides had agreed to extend the deal that has allowed Ukraine, a major grain exporter, to resume shipments.
But there was disagreement over the terms.
Ukraine's infrastructure minister said the deal had been extended for 120 days, but a spokeswoman for Russia's foreign ministry said Moscow had agreed to a 60-day extension.
Ukraine's Black Sea ports were blocked by warships after Russia sent in troops last year.
The deal brokered by Turkey and the United Nations in July 2022 — and signed by Kyiv and Moscow — had allowed for the safe passage of exports. It was extended for 120 days in November.
Fighting on the ground is concentrated in the eastern Donetsk region of Ukraine, particularly the city of Bakhmut.
Russian strikes hit the nearby city of Kramatorsk on Saturday, killing two people and wounding 10, said regional governor Pavlo Kyrylenko, who accused Moscow of using cluster bombs in the attack.
He said the Russian forces had targeted a park and damaged "a dozen residential buildings".
AFP journalists in Kramatorsk heard around 10 explosions go off nearly simultaneously just before 4:00 pm local time (1400 GMT) and saw smoke rise above a park in the southern part of the city.
A woman died at the scene from her wounds, they saw.