AGARTALA:
Dr Manik Saha, a dental surgeon-turned-politician, was sworn in as the chief minister of Tripura
for the second BJP-led government in the state, in presence of Prime Minister Narendra Modi on Wednesday.
Union home minister Amit Shah,
BJP
national president J P Nadda, chief ministers of Arunachal Pradesh, Sikkim and Manipur Pema Khandu, Prem Singh Tamang and Nongthombam Biren Singh, besides a few other top leaders also attend the swearing-in ceremony held at Vivekananda Stadium here.
Governor Satyadev Narian Araya administered his oath of office and secrecy to Saha and eight cabinet members. However, three ministerial berths of the cabinet have been kept vacant, according to sources, these would be filled up with the members of the second-largest party TIPRA Motha if they agree to join the government.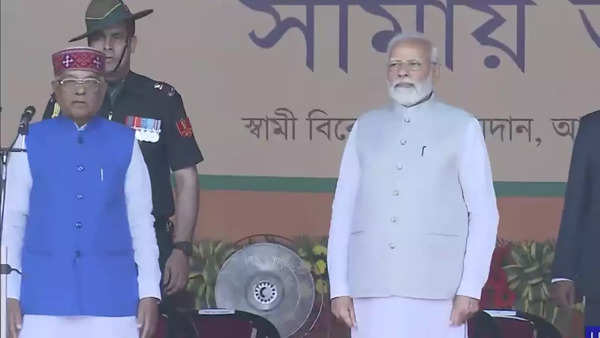 Prime Minister Narendra Modi at the swearing-in ceremony of Dr Manik Saha in Agartala on Wednesday. (ANI)
The BJP secured victory in 32 seats and its ally Indigenous People's Front of Tripura (IPFT) won one seat while TIPRA Motha won 13 of 20 tribal-reserved constituencies and emerged as the main opposition pushing out 50 years old dominant parties of the state, CPM and Congress. This election, both the CPM and Congress stroke a seat-sharing deal to fight against BJP but the Left ended at 11 and Congress at three seats in the 60-members house.
Dr Saha took oath as the chief minister for the second time in just 10 months of legislative politics after defeating Congress stalwart Ashis Kumar Saha from Bordowali constituency of Agartala by a margin of 1,257 votes. Saha replaced last May incumbent CM Biplab Kumar Deb who had to step down following a massive opposition within the party.
"I am committed to the development of the state with any political consideration. I believe in a democracy people have the right to vote for opposition parties and the co-existence of the ruling party and opposition is the beauty of India, which led to development and prosperity. Under the guidance of Prime Minister Modiji we shall drive Tripura into a model state," Dr Saha said after becoming the CM.
Earlier, Saha had won the bypoll against Ashis Kumar by a margin of more than 6,000 votes 40 days after becoming the CM. The BJP gained its lost ground under the able leadership of Dr Saha within six months and the anti-incumbency wave was arrested substantially along with the factional fights, besides development activities were also pushed.
However, Dr Saha faced a tough challenge in retaining the CM's post from Union minister of state for social justice and empowerment Pratima Bhowmik. With the support of central leaders and Prime Minister Modi, Dr Saha became the CM for the second time while Bhowmik couldn't even manage a cabinet berth.
Three sitting ministers of the outgoing cabinet including two veteran BJP leaders – jail minister Ramprasad Paul and tribal welfare minister Rampada Jamatia — besides industries minister Manoj Kanti Deb were excluded from Saha's cabinet despite winning the electoral battle due to their "poor performance", BJP sources claimed.
On the other hand, senior leaders and ministers of the outgoing cabinet, Ratan Lal Nath, Pranajit Singha Roy, Santana Chakma and Sushanta Chowdhury, were administered the oath of office as cabinet ministers. Four new faces, including three first-time MLAs — Tinku Roy and Bikash Debbarma of BJP and Shukla Charan Noatia of IPFT — apart from second-time MLA Sudhanshu Das have been inducted into the cabinet.
Significantly, Dr Saha has not filled the post of deputy CM and has not yet distributed the portfolio among the members. According to sources, the BJP central leadership has been persuading TIPRA Motha to join the government but its chief, royal scion Pradyot Kishore Debbarma, didn't agree to get in until given a written commitment for the constitutional solution of their Greater Tipraland demand.
Debbarma claimed that he had received many calls from the BJP to join the government but declined them to seek a constitutional solution to tribal issues. He said, "I have made my position clear that if they can't do anything for our demand then there will be no difference between TIPRA and IPFT. We want to end the miseries of 14 lakh indigenous population, not two-three ministerial berths."
Watch Manik Saha takes oath as Tripura Chief Minister for 2nd consecutive term