Shilpa Shirodkar was a part of many memorable hits through the 90s. Whether it was teaming with Amitabh Bachchan, Rajinikanth and Govinda in Hum, or with Sridevi and Mr Bachchan in Khuda Gawah, Shilpa was in the thick of all the action and the biggest blockbusters. By her own admission, she's worked with everyone from Ashok Kumar to Saif Ali Khan and she's made countless friends in an industry that has shown her love and thrown her challenges, too. In this week's Big Interview, Shilpa looks back at her career with affection.
Why and how did you lose out on working in Chaiyya Chaiyya with Shah Rukh Khan?
Well who would ever want to lose out on Chaiyya Chaiyya… But yes, Farah Khan had come with the song and she said they were considering me for it. But then they thought I was too fat so they opted for Malaika.

How often did your body type, weight or looks become a challenge in your career?
I really don't remember if my weight or the way I looked decided on the success or love I got from the industry or my fans. It never mattered in the 90s. We worked on numerous projects at any one time, we worked round the clock and did many shifts.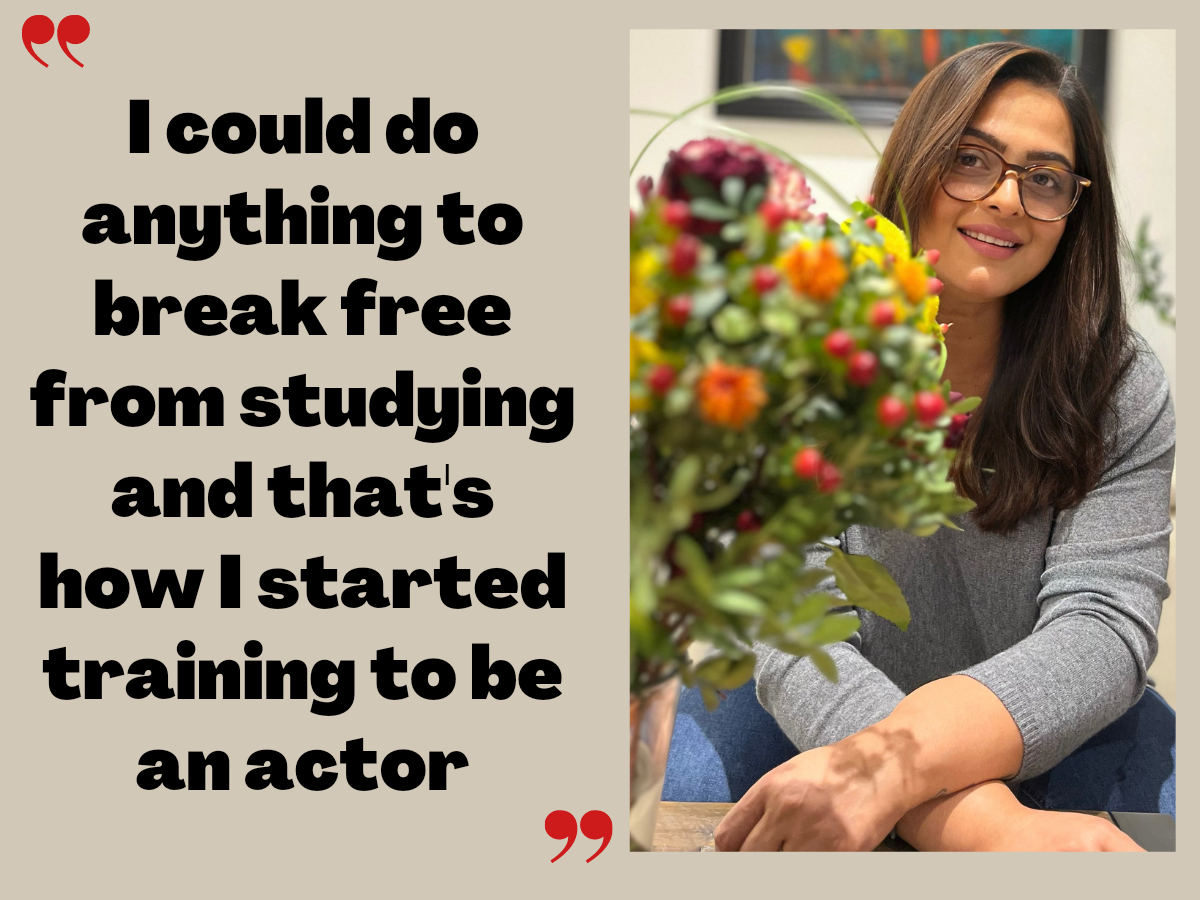 What if you were to make your debut in 2023?


If I had to debut in today's time I dont think I would get work. Imagine in the 90s they called me fat, abhi God knows what they would call me.
Was the film industry a far more difficult place back then, than it is now?
I dont think so. I feel back then we had the opportunity to learn each day, the producers, directors and actors were always happy to help and mould young actors. I feel today the competition is so fierce that everyone has to come prepared with no second chance unfortunately.
Did you ever become a protective sister, considering you came into the industry long before Namrata Shirodkar?
No way! Namrata is older than me, and she has always been protective of me. That never changed. When Namrata decided to come into the movies she was already a top model, her entry into films was much easier.
How was life growing up with your grandmother Meenakshi Shirodkar and mother Vanita both being actresses? Was acting the only career option for you?
My grandmother was a top Marathi actress, and my mom used to model for extra income. Becoming an actor was never the only option for me. My parents were never like that. But honestly I was such a poor student at school and when I used to go to the shoot with my mom I used to love the energy. I did a child actor role in Jagdish Sidana's Samay Ki Dhara. Jagdish ji was our neighbor. Then I did a small role in Mahesh Bhatt's Janam where I played Kumar Gaurav's sister. Bhatt saab told my mom that if I was keen to act I shouldn't waste my time doing all this, that's when my maa asked me and I instantly said yes. I could do anything to break free from studying and that's how I started training to be an actor.
I always say God has been too kind. He gave me more than I ever dreamt off. I got a career in the best industry in the world where I met the most amazing people and carved my own niche.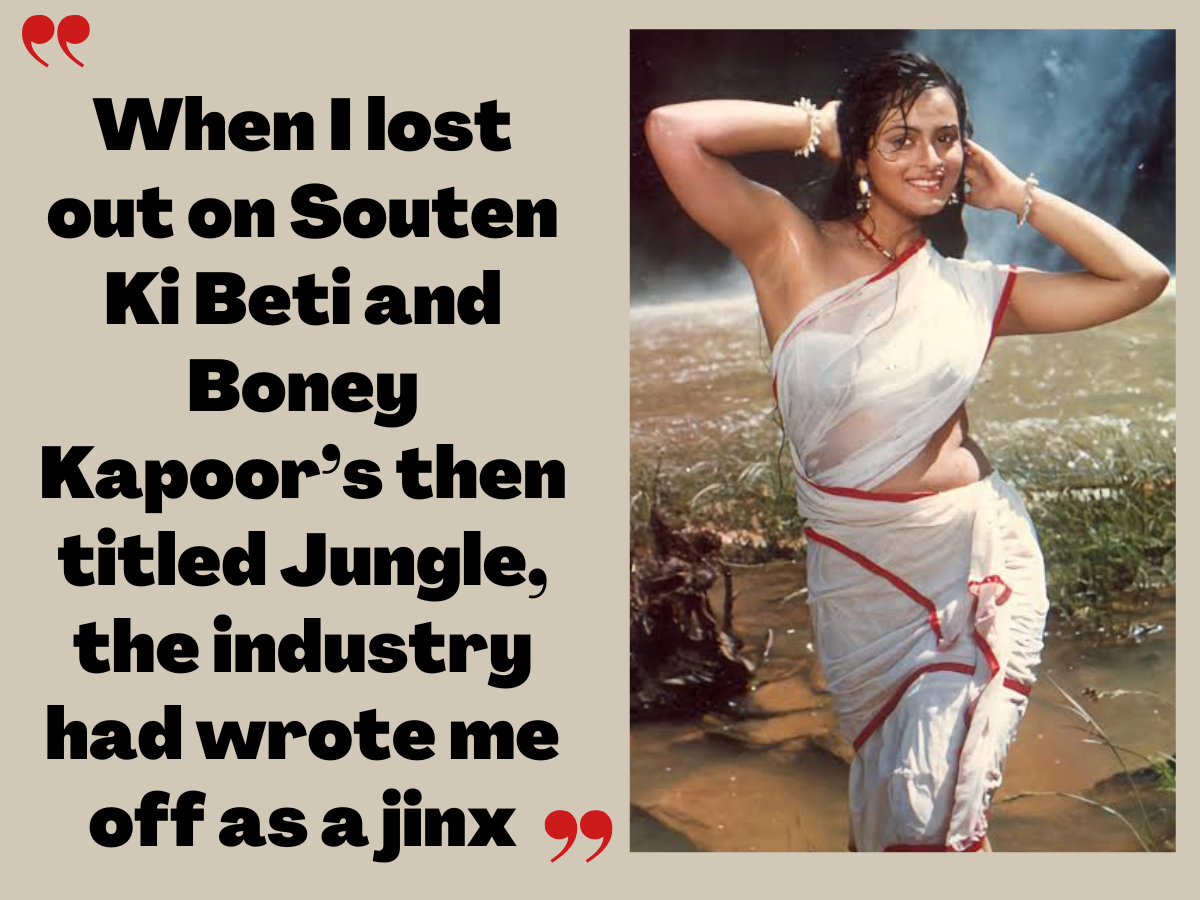 Who were the kindest and most supportive people from the film industry through your career during the 90s?

It would be unfair if I took just one or two names. The entire industry, my co-actors, my directors, my producers, my crew and my lovely technicians all of them played an important role in all the work I have done.
I remember there was casting of a Telugu film back in the 90s and Anil Kapoor was shooting in Hyderabad, and he actually carried my photo album to show the producer and director and then, even I got the film.
Mithun da was the reason I am working in this industry. When I lost out on Souten Ki Beti and Boney Kapoor's then titled Jungle, the industry had wrote me off as a jinx. It was dada who got me a role in Bhrashtachar and my journey in this wonderful industry began.
You've always been vocal about your admiration for Amitabh Bachchan. But during the 90s, when you worked with these superstars, how intimidating was the experience?
Honestly, it wasn't intermidating at all. I love Amitji today as much as I did when I was 16 years old.

I have learnt so much from him. His respect for his art, his professionalism, his kindness towards his cast and crew everything about Amitji that I have learnt I will take to my grave.
You've been part of some iconic films like Hum and Khuda Gawah. What memories do you have of working with the ensemble cast of these films?
I still remember when I was shooting for Hum in Mauritius, I met with an accident on the boat while shooting the song Sanam Mere Sanam, they had to call a wheel chair and get me out, I was immobile for nearly 7 days and when I returned on the set the entire cast and crew all cut a cake for me and celebrated my recovery.
I also remember the days I used to be off I used to go as an assistant to Chinni Masterji (choreographer Chinni Prakash) on the set. Especially that bar fight sequence featuring Rajni sir and Govinda. It was so much fun watching Rajni sir and Govinda together doing dance and action.
We used to hear of actresses having catfights and cold vibes during the 80s and 90s a lot. Did you ever experience any of that first hand?
No! Never! I just got along with everyone so well… and where was the time for all this.
I remember during the shooting of Mrityudand we were all shooting in Vai. And Prakash ji (Prakash Jha, director) had taught Madhuri and I origami. After a few tries I just gave up but MD continued it till she got it perfectly. I still remember telling her, just leave it its ok but she wouldn't and she got it done and she was so happy.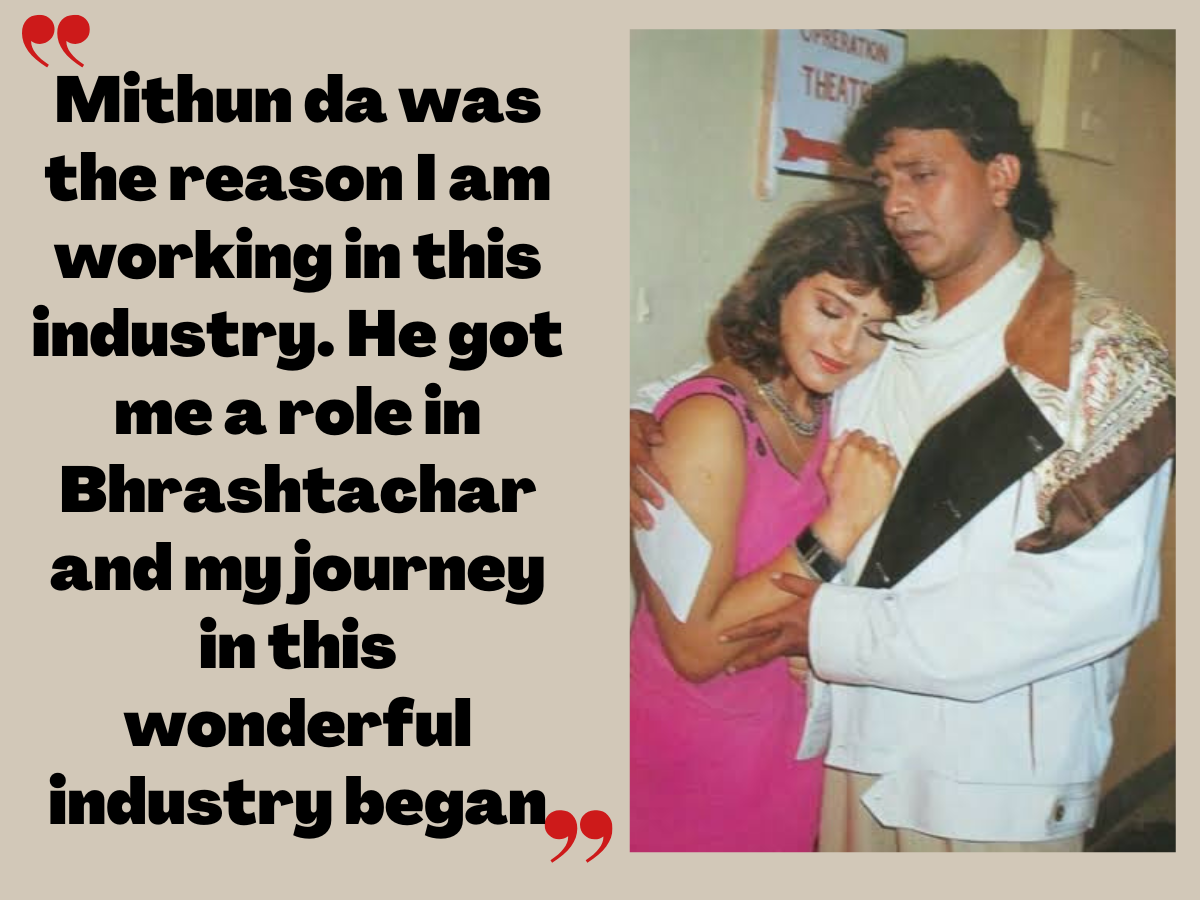 Who were your favourite co-stars and colleagues and why?
How can I chose any one or two colleagues. I have such fond memories of each and everyone and each and every film. I wont be able to choose any one particularly.
I was very new and I was doing a special appearance in Yodha with Sanjay Dutt. After the song finished I had a scene, which was an emotional and romantic scene, and I wasnt getting it right for some reason or maybe I wasn't able to deliver what Rahul Rawail ji, who was the director, wanted. He got really annoyed and angry and started to shout, so Sanju calmed him down, took me to the side and said to me, 'What if you were in love with me and I was doing something that wasn't good for me, do it like that, ok? Say your lines and look at me with a lot of 'love' and 'affection'…" I did the shot and it turned out to be lovely. Since then, whenever Sanju and I meet we always exchange a 'love' and 'affection' greeting.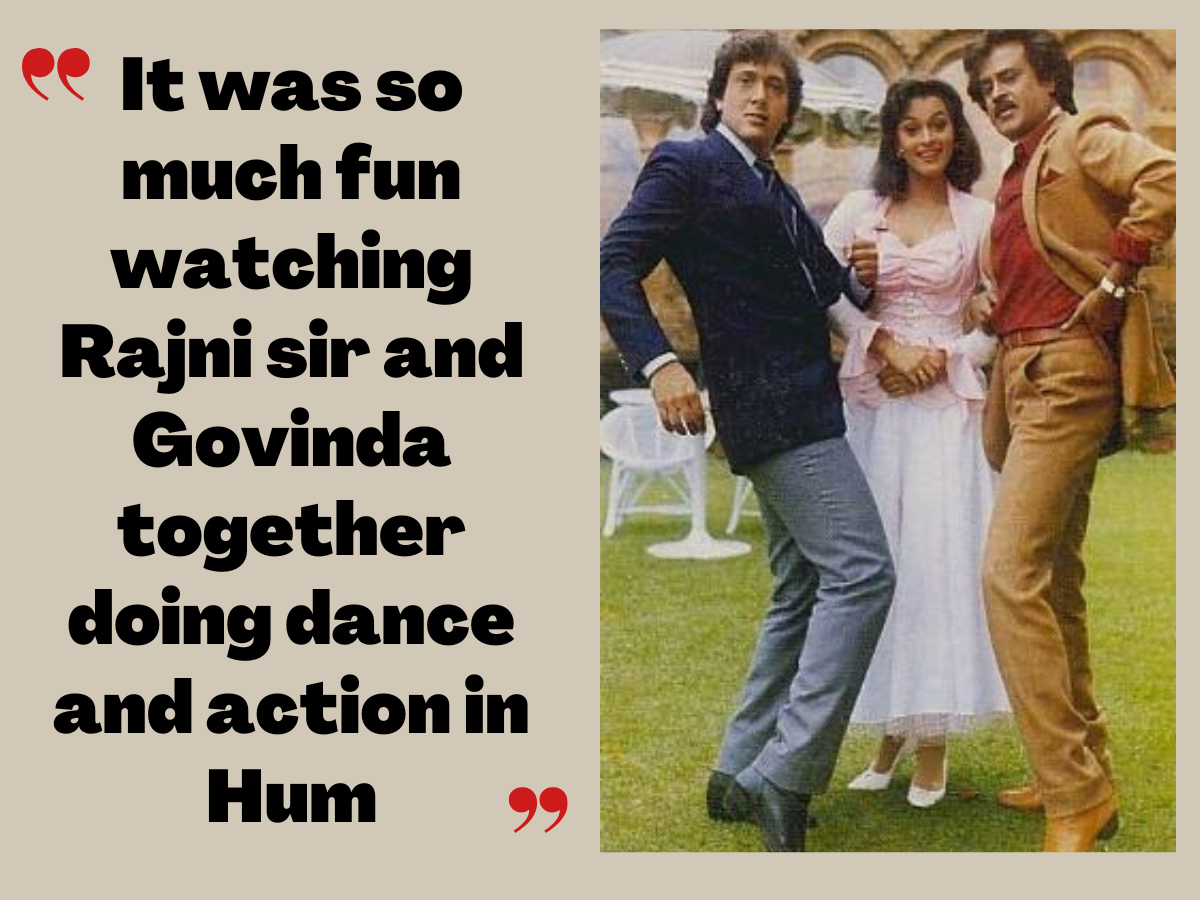 When you came back in 2013 on TV, how different was the experience? Was the entertainment industry a better place to work in?
When I returned after 13 years everything was different, mills had turned into studios, there was no negatives and raw material, there were vanity vans, ac sets, monitors and everyone was doing one film at a time with binded scripts and fixed budgets… even the bathrooms in the studios were clean.

But the people were the same they all still worked with the same zest and love.
You moved to London after getting married, but if you get film or TV offers now, will you be taking them up?
Of course I would love to do films again. I would love to do some interesting stuff on the digital platform too. But when I spoke to people they said aap bahut duur rehti ho, nahi ho payega.
Both you and your sister Namrata chose to prioritise with your family life but today actresses are ready to return to work within a year of motherhood. What do you feel about that?
I think it's absolutely amazing to see everyone of them working, and doing such great work. It just shows again that the industry has changed and changed for the best.
I always say its amazing to see a mother working and taking care of her home, bringing up her kids giving them the right values. I have alot of respect for all of them.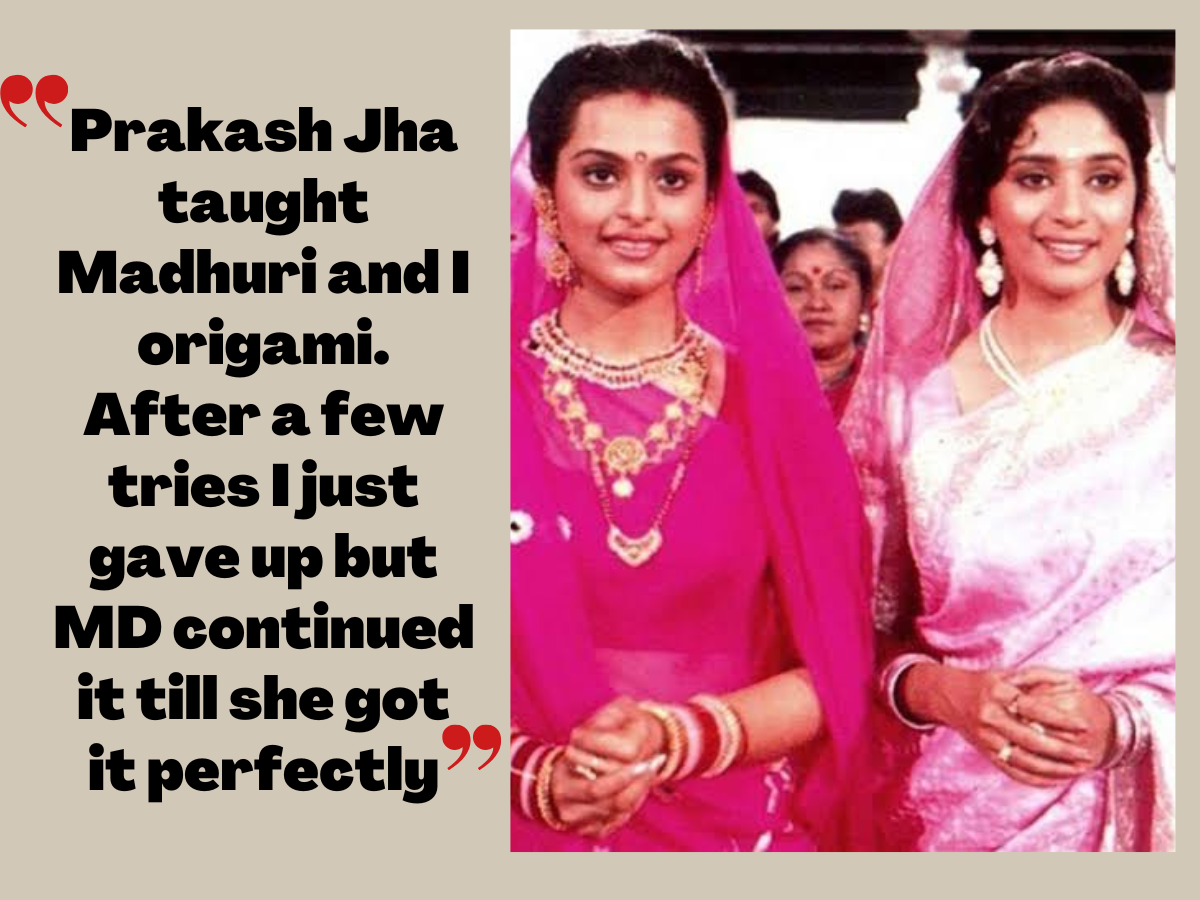 Will the acting legacy continue with your kids.

Well Anoushka isnt thinking about it at all, but never say never. About Gautam and Sitara, they are too young, so lets see.
How do you look back at your journey?
You know I've worked with practically everyone in this industry from Ashok Kumar to Saif Ali Khan and all I can say is I feel blessed. Someone above in the heavens is truly watching over me…