Jacqueline Fernandez
has been in news for 200-crore money laundering case involving Sukesh Chandrasekhar. The actress was said to be in a relationship with the conman, however she had denied the romance. Sukesh had said that they were in a relationship but there were 'no monetary benefits' involved.
Now on the occasion of Holi, Sukesh has written a letter from Jail in Delhi, which is addressed to the media. He also sent love-filled
Holi
wishes to Jacqueline. Sukesh addressed his letter to the media and thanked them for bringing forward his side of the story as well. He also wished a very happy holi to his friends, family, supporters, haters, friends and legal team. He then sent holi wishes to Jacqueline. Sukesh's letter read, "I also wish the most fantastic human, the amazing, my ever-beautiful Jacqueline a very Happy Holi. On this day, festival of colours, I promise you, the colours which faded or disappeared will be brought back to you, a 100x folds. This year in full jazzy and brightness, my style. I will make sure of that and its my responsibility. You know I will go to all extent, for you my baby girl. I love you my baby, stay smiling. You know well what you mean to me and how much you mean to me. Love you my princess, miss you loads, my bee. My bomma. My love. My Jackie."
Read the letter below: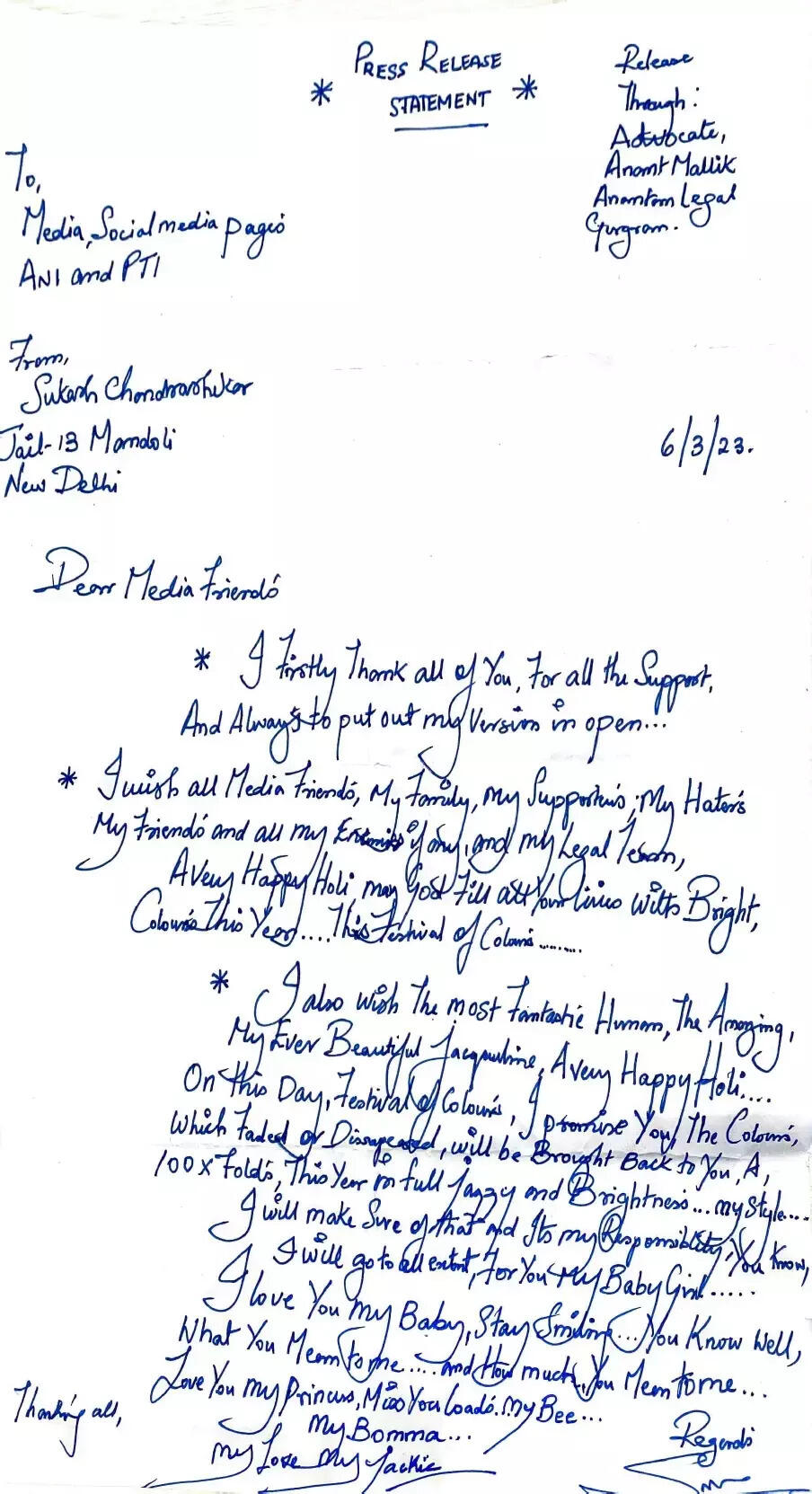 Recently, in her statement to the Enforcement Directorate, Jacqueline revealed that she had met Sukesh in 2018. "I have been speaking to Sukesh since February 2017. In August 2021, he was arrested, after which I never met him. He told me that he is the owner of Sun TV and from the political family of Jayalalithaa," the actress had said. She also said that he didn't even tell her that he was in jail. "He never mentioned he was calling from jail or that he was in jail. He used to call from one corner with a curtain and a sofa in the background," said the actress.