NEW DELHI: Indian-origin British
home
secretary Suella Braverman resigned on Wednesday after admitting she made a "mistake" in using her private email for ministerial communication.
Some media reports, citing sources in Downing Street, said Braverman's departure might also be connected to her opposition to certain proposed provisions in the Free Trade Agreement with India — a deal that is strongly being backed by embattled UK PM Liz Truss
Second senior minister to quit
The latest setback to the Truss government comes just days after the unceremonious exit of Kwasi Kwarteng as chancellor, and the axing of the majority of the government's mini-budget by his successor, Chancellor
Jeremy Hunt
.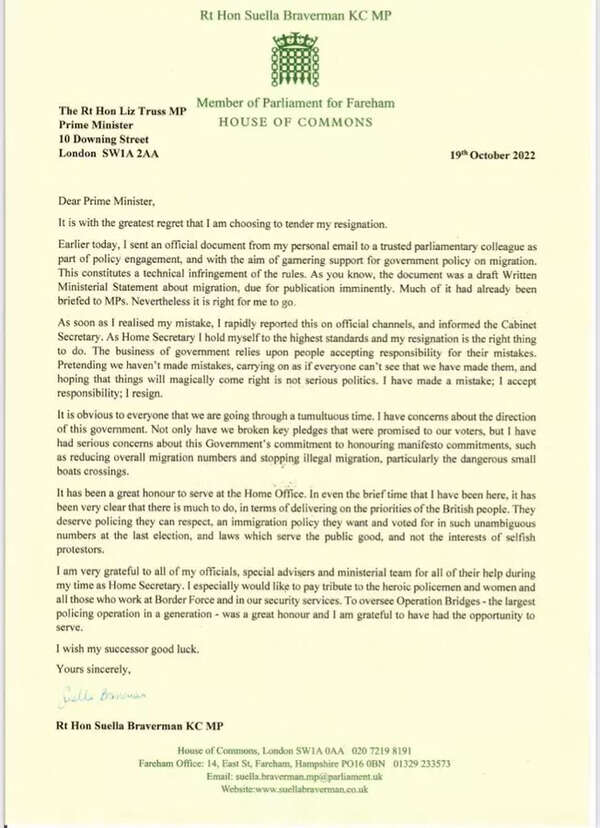 Braverman was home secretary for only 43 days while Kwarteng was finance minister for less than 6 weeks.
Former transport minister Grant Shapps will replace Braverman as Britain's interior minister.
Veiled criticism of Truss over migration
"I sent an official document from my personal email to a trusted parliamentary colleague as part of policy engagement, and with the aim of garnering support for government policy on migration. This constitutes a technical infringement of the rules," Braverman said in her resignation letter.
"As you know, the document was a draft Written Ministerial Statement about migration, due for publication imminently. Much of it had already been briefed to MPs. Nevertheless, it is right for me to go. As soon as I realised my mistake, I rapidly reported this on official channels, and informed the Cabinet Secretary. As Home Secretary I hold myself to the highest standards and my resignation is the right thing to do," said Braverman.
But in a veiled attack at Truss, Braverman also added: "Pretending we haven't made mistakes, carrying on as if everyone can't see that we have made them, and hoping that things will magically come right is not serious politics."
Braverman said the new government was enduring "tumultuous times" and she has "serious concerns" that PM Truss was breaking manifesto promises such as "reducing overall migration numbers and stopping illegal migration".
Accepting the resignation, Truss — in a letter to Braverman — said: "I accept your resignation and respect the decision you have made. It is important that the ministerial code is upheld and that cabinet confidentiality is respected."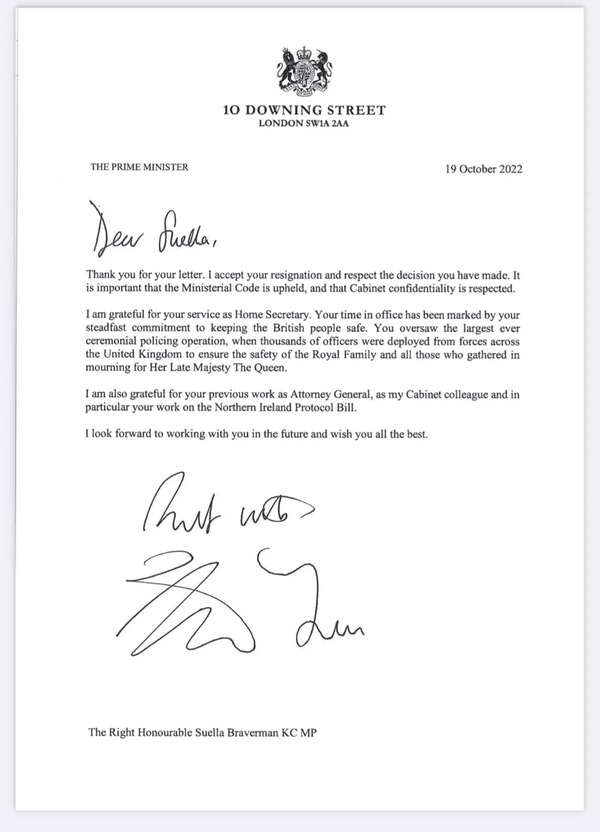 Clash over free trade deal with India
Some media reports have speculated that another reason for Braverman's departure could be her voicing "reservations" over the proposed Free Trade Agreement (FTA) with India and linking it to illegal immigration.
Braverman had cast doubts over a proposed trade deal with India over the issue of migration and branded Indians as the "largest group of people who overstay" their visas in the UK. Expressing concerns over what she feared would be an "open borders" migration policy, the senior minister seemed to indicate that she would not offer Cabinet backing to a trade deal that offers India greater visa concessions.
"I have concerns about having an open borders migration policy with India because I don't think that's what people voted for with Brexit," Braverman had said.
Truss is reported to be actively supporting an FTA with India – now in the final round of negotiations – within the Diwali deadline set by her predecessor Boris Johnson.
The Ministry of External Affairs (MEA) had said India and the UK are interested in concluding the FTA at the earliest as intensive discussions are underway keeping in view that it proves to be a win-win situation for both sides.
"There is interest in both sides to conclude the FTA at the earliest. Diwali has been set as a goal. Intensive discussions are underway towards this and they are continuing," MEA spokesperson Arindam Bagchi had said.
Braverman, who is an Indian-origin barrister, was appointed as the UK's home secretary this year, replacing fellow colleague Priti Patel who is also of Indian descent.
(With inputs from agencies)