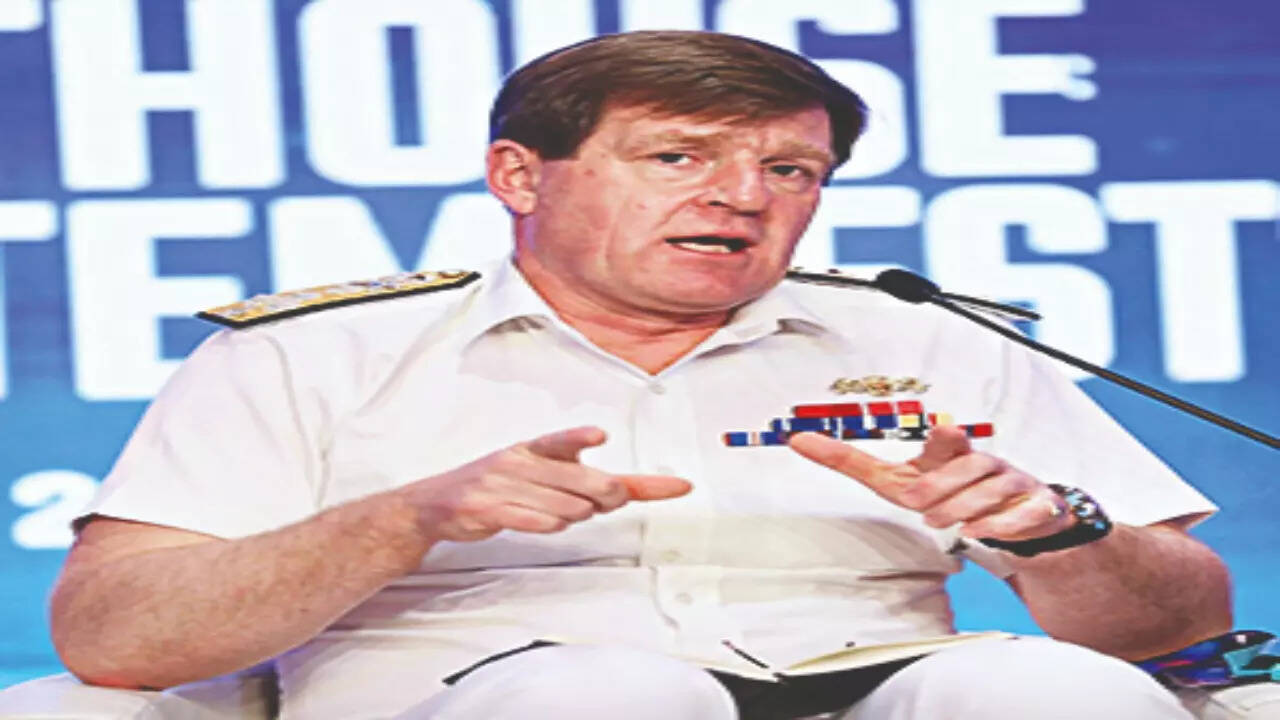 NEW DELHI: China should not help
Russia
to sustain its 'outrageous and illegal' war against
Ukraine
, a top UK military officer said on Saturday, even as he called for a major step-up in bilateral defence cooperation with India in fields ranging from maritime security to sharing of high-end technology.
"If the relationship between Russia and China is enabled around peace and prosperity for those two nations, then it is not for us to view it with any concern," visiting First Sea Lord and UK chief of naval staff Admiral Ben Key said.
"But if what China is doing is to enable and perpetuate Russia's outrageous violation of Ukrainian sovereignty, in a way that it has currently been doing…potentially to provide weapons so that Russia can continue to operate in Ukraine, then I would regret that strongly," he added.
While the UK has 'no quarrel' with the Russian people, President Vladimir Putin's illegitimate invasion of Ukraine against all international principles and norms must be condemned strongly. "And, it would be inappropriate of China to be enabling Putin to continue to act as illegally as he is doing in Ukraine at the moment," Admiral Key said.
There is also major concern around the globe about China's aggressive and expansionist tactics in the entire Indo-Pacific region, especially the contentious South China Sea, fielding as it now does the world's largest navy with 355 warships and submarines.
Asked about this, Admiral Key said the UK would 'encourage' China to adhere to the 'rules-set' developed over time by the international community that is enshrined in the UN Convention on the Law of the Sea (UNCLOS).
Admiral Key, who met chief of defence staff General Anil Chauhan and Navy chief Admiral R Hari Kumar, told TOI that the India-UK `2030 Roadmap' had set 'very ambitious targets' to achieve on the bilateral front.
The UK is especially keen to bolster the defence-industrial partnership, having offered jet engine technology for India's proposed project to build the fifth-generation advanced medium combat aircraft (AMCA) as well as next-generation electric propulsion systems for warships.
Earlier this week, for instance, India and the UK held their inaugural joint working group meeting on electric propulsion systems at Portsmouth. "We can share our experiences and help India avoid some of the mistakes we have made," Admiral Key said.
The UK also plans to closely work with India as a key strategic partner in bolstering maritime security in the crucial Indo-Pacific in tune with its Integrated Defence Review-2021. "I shared some ideas with Admiral Kumar on how we can operate together. There are a number of opportunities that are emerging in bilateral defence ties," Admiral Key said.
Expressing support for the 'Make in India' policy, he said, "India is reaching out for partnerships, but it is also making sure that it is personally resilient, which is essential as we move into a complex and uncertain world."