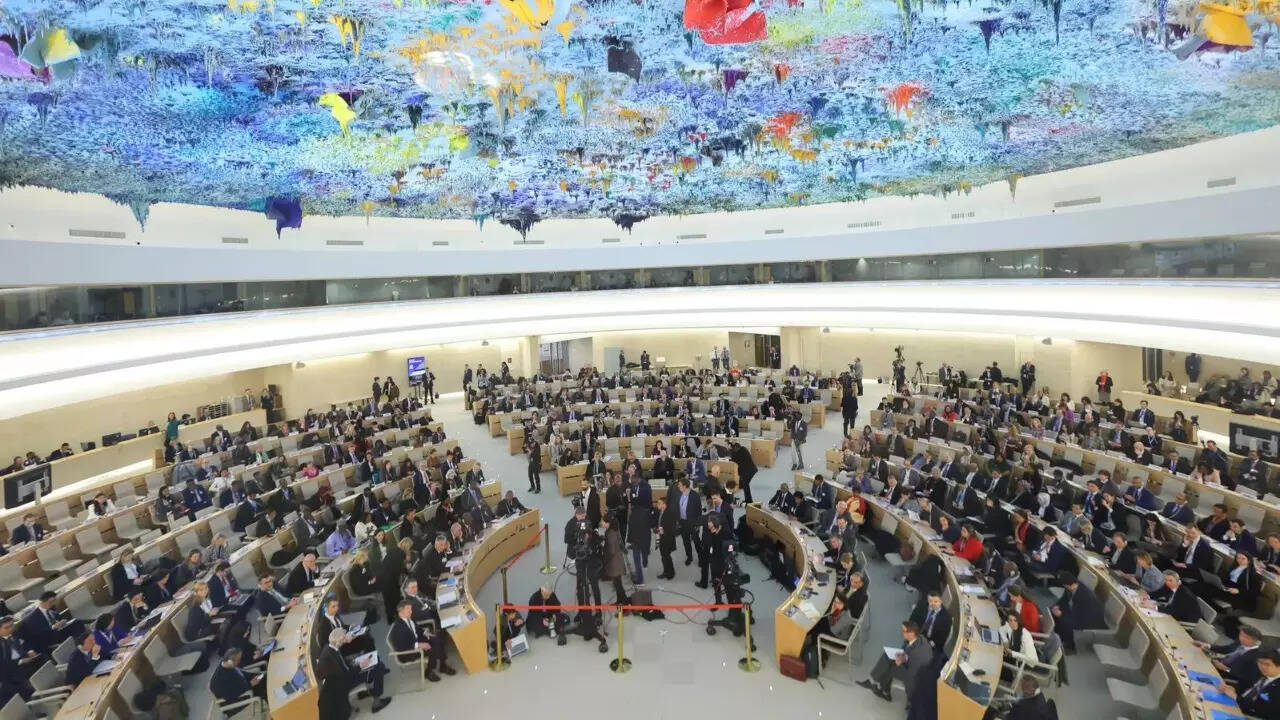 GENEVA: The UN rights chief condemned
Russia
's "senseless" invasion of
Ukraine
on Monday at the start of a Human Rights Council session at which countries want to strengthen scrutiny of Moscow's alleged war crimes and raise China's treatment of Muslim Uyghurs.
Volker Turk, the United Nations high commissioner, in one of his first speeches to the 47-member council, warned that human rights gains were being reined back and even reversed, citing Russia's invasion of Ukraine as an example of oppression.
UN Secretary-General Antonio Guterres said in a separate speech that the war had triggered "massive violations" of rights.
During the meeting, which runs until April 4, many states will seek to extend and deepen the mandate of a UN investigation body set up to probe possible atrocities in Ukraine.
Kyiv, which has called for the establishment of a special tribunal to prosecute Russia's political and military leadership over the invasion, has said the body was essential to ensure Russia is held accountable.
Several countries specifically called for the UN body to probe the alleged transfer of thousands of children from Ukraine to Russia – an act that Ukraine's foreign minister described as a "genocidal crime".
"What could be more abhorrent than to take children out of their homes?," Germany Foreign Minister Annalena Baerbock said. "We will not rest until every single child will be home."
SUSPENDED
Kyiv and its allies are unhappy with the participation of Russian Deputy Foreign Minister Sergei Ryabkov, who will address the council on Thursday.
It will be the first time a Russian official from Moscow has attended in person since the war began a year ago. Russia, which denies committing war crimes or targeting civilians in Ukraine, was suspended from the council over the invasion in April but can still take part as an observer.
Western diplomats have been publicly tight-lipped on their reaction to Ryabkov's presence after staging a walk-out of a speech by Russian Foreign Minister Sergei Lavrov at the council last year.
Yevheniia Filipenko, permanent representative of Ukraine to the United Nations Office in Geneva, said Ukraine did not welcome Russia's presence and would "act accordingly", without giving details.
The Geneva-based UN Human Rights Council is the only body made up of governments to protect human rights worldwide. It does not have legally binding powers but its debates often bring heightened scrutiny to issues and it can spur investigations that feed evidence to national and international courts.
Countries also will closely watch how Turk, who has been in his role since October, refers to China after his predecessor Michelle Bachelet was accused by some rights groups of being too soft on Beijing.
Rights groups accuse Beijing of abuses against Uyghurs, a mainly Muslim ethnic minority that numbers around 10 million in Xinjiang, including the alleged mass use of forced labour in internment camps. The United States and some other foreign lawmakers and parliaments have accused China of genocide.
China has vigorously denied the allegations.