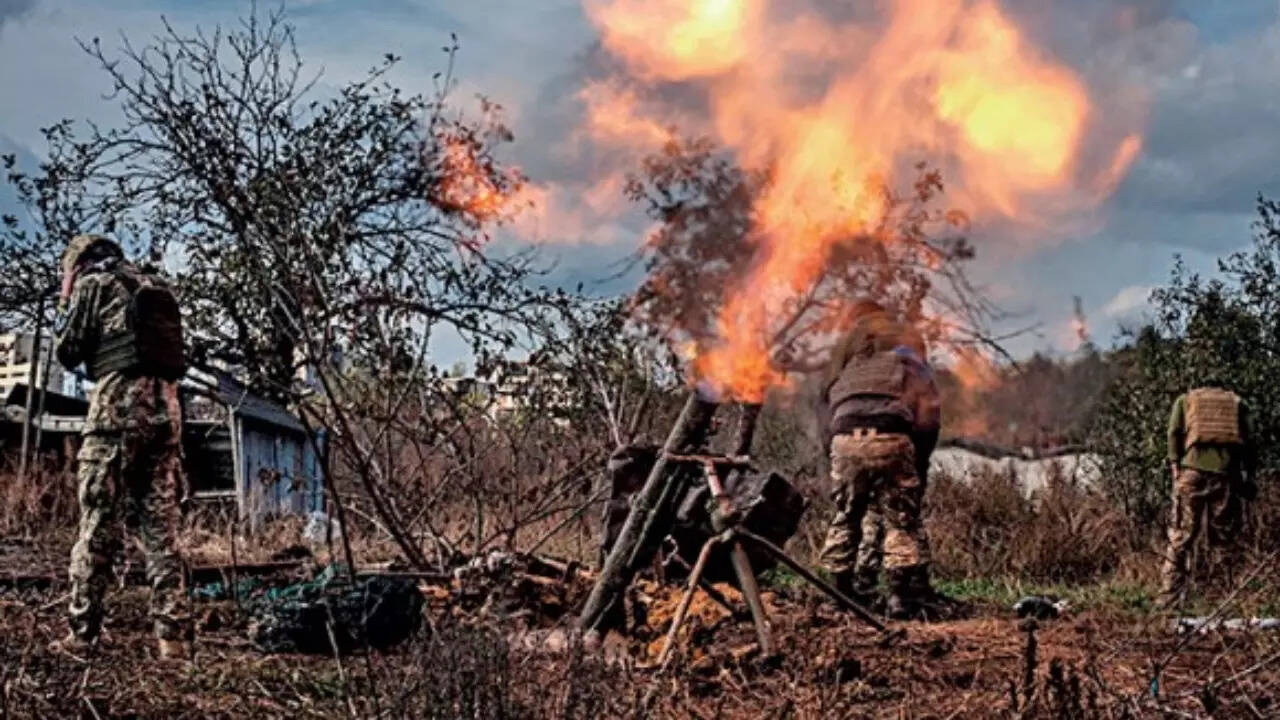 WASHINGTON: The United States marked the first anniversary of Russia's invasion of
Ukraine
on Friday by announcing new sanctions against
Russia
and its allies, new export controls and tariffs aimed at undermining Moscow's ability to wage war.
Washington also said it would provide $2 billion in more weaponry for Kyiv as it prepares for a spring offensive. The aid did not include F-16 fighter jets that Ukraine has requested.
President Joe
Biden
was to consult leaders of the G7 allies and Ukraine President Volodomyr Zelenskiy at 9 am (1400 GMT) to discuss what more aid can be provided to the Ukrainians.
The United States joined with G7 allies with plans to impose sanctions that will target 200 individuals and entities and a dozen Russian financial institutions.
The sanctions are aimed at targets in Russia and "third-country actors" across Europe, Asia and the Middle East that are supporting Russia's war effort, the
White House
said in a fact sheet.
"We will sanction additional actors tied to Russia's defense and technology industry, including those responsible for backfilling Russian stocks of sanctioned items or enabling Russian sanctions evasion," it said.
Biden was to sign proclamations to raise tariffs on Russian products imported to the United States. They will result in increased tariffs on more than 100 Russian metals, minerals and chemical products worth about $2.8 billion to Russia.
"It will also significantly increase costs for aluminum that was smelted or cast in Russia to enter the U.S. market in order to counter harm to the domestic aluminum industry," the White House said.
The U.S. Commerce Department will take several export control actions, listing nearly 90 Russian and third-country companies, including in China, for engaging in sanctions evasion in support of Russia's defense sector.
"These listings will prohibit the targeted companies from purchasing items, such as semiconductors, whether made in the U.S. or with certain U.S. technology or software abroad," the White House said.
Commerce will also act with G7 allies to align measures on industrial machinery, luxury goods and other items, as well as issue new restrictions to prevent components found in Iranian drones from making their way to the Ukraine battlefield, the White House said.
Biden has spent the past year rallying U.S. allies against Russia's invasion.
When the war began, Russia had anticipated taking over Kyiv quickly with a lightning strike and absorbing its western neighbor in what Moscow called a "special military operation."
But Ukraine's fierce resistance, bolstered by massive amounts of weaponry from the United States and NATO allies, has helped it hold the line and put pressure on Russian President
Vladimir Putin
at home.
The Pentagon said the additional $2 billion in military aid for Ukraine includes more ammunition for the High Mobility Artillery Rocket Systems (HIMARS) and a number of different types of drones including Switchblades and the CyberLux K8.
The weapons will come from a fund known as the Ukraine Security Assistance Initiative, which allows the Biden administration to get weapons from industry rather than from U.S. weapons stocks.
In a statement marking the anniversary, U.S. Defense Secretary Lloyd Austin said the United States had committed more than $32 billion in military aid over the past year to Ukraine, including 8,500 Javelin anti-armor systems and 38 HIMARS.
"Putin thought that Ukraine's defenses would collapse, that America's resolve would falter, and that the world would look the other way. He was wrong," Austin said.
"One year later, Ukraine's brave defenders have not wavered, and neither has our commitment to support them for as long as it takes," he said.
Resistance remained in the upper reaches of Biden's administration to sending American fighter jets to Ukraine.
White House national security adviser Jake Sullivan, asked if the United States will send F-16s jets, told CNN on Thursday that they are not the key capability needed for Ukraine's upcoming spring offensive, but more for long-term defensive needs.