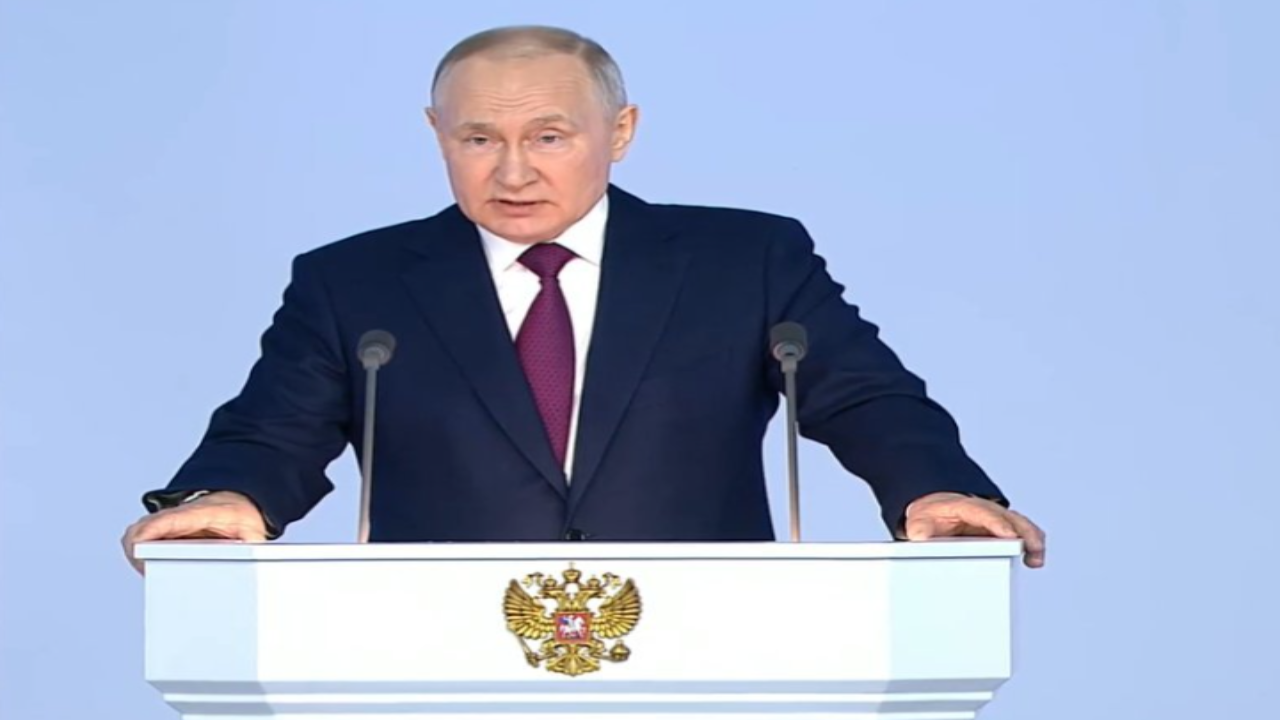 Russian President Vladimir Putin railed against the West in his long-delayed state-of-the-nation address on Tuesday, a speech expected to set the tone for the year ahead and shed light on how the Kremlin sees its bogged-down war in Ukraine.
Putin has frequently justified his invasion of Ukraine by accusing Western countries of threatening Russia. They say nothing could be further from the truth, saying that Moscow's forces attacked Ukraine unprovoked.
"It's they who have started the war. And we are using force to end it," Putin said in a speech broadcast by all Russian state TV channels.
While the Constitution mandates that the president deliver the speech annually, Putin never gave one in 2022, as his troops rolled into Ukraine and suffered repeated setbacks. Now the address comes days before the war's first anniversary on Friday.
Before the speech, Kremlin spokesman Dmitry Peskov has said that the Russian leader would focus on the "special military operation" in Ukraine, as Moscow calls it, and Russia's economy and social issues. Many observers also expect the speech to address Moscow's fallout with the West.
Underscoring the anticipation, some state TV channels put out a countdown for the event starting Monday, and Russia's state news agency RIA Novosti on Tuesday morning said the address may be "historic."
The Kremlin this year has barred media from "unfriendly" countries, the list of which includes the US, the UK and those in the EU. Peskov said journalists from those nations will be able to cover the speech by watching the broadcast.
Senior Russian lawmaker and leader of the nationalist LDPR party Leonid Slutsky was quoted by RIA Novosti as saying that Putin will set priorities "that will deprive our enemies of the hope to defeat Russia, weaken it or try to subdue it to their neo-colonial leadership."
Political analyst Tatyana Stanovaya said the address "was expected to be very hawkish, aimed at defiantly breaking off relations with the West." In the wake of US President Joe Biden's visit to Kyiv on Monday, "additional edits can be made to make it even harsher."
Peskov told reporters that the speech's delay had to do with Putin's "work schedule," but Russian media reports linked it to the multiple setbacks Russian forces have suffered on the battlefield in Ukraine.
The Russian president had postponed the state-of-the-nation address befor: In 2017, the speech was rescheduled for early 2018.
Last year the Kremlin has also canceled two other big annual events — Putin's press conference and a highly scripted phone-in marathon where people ask the president questions.