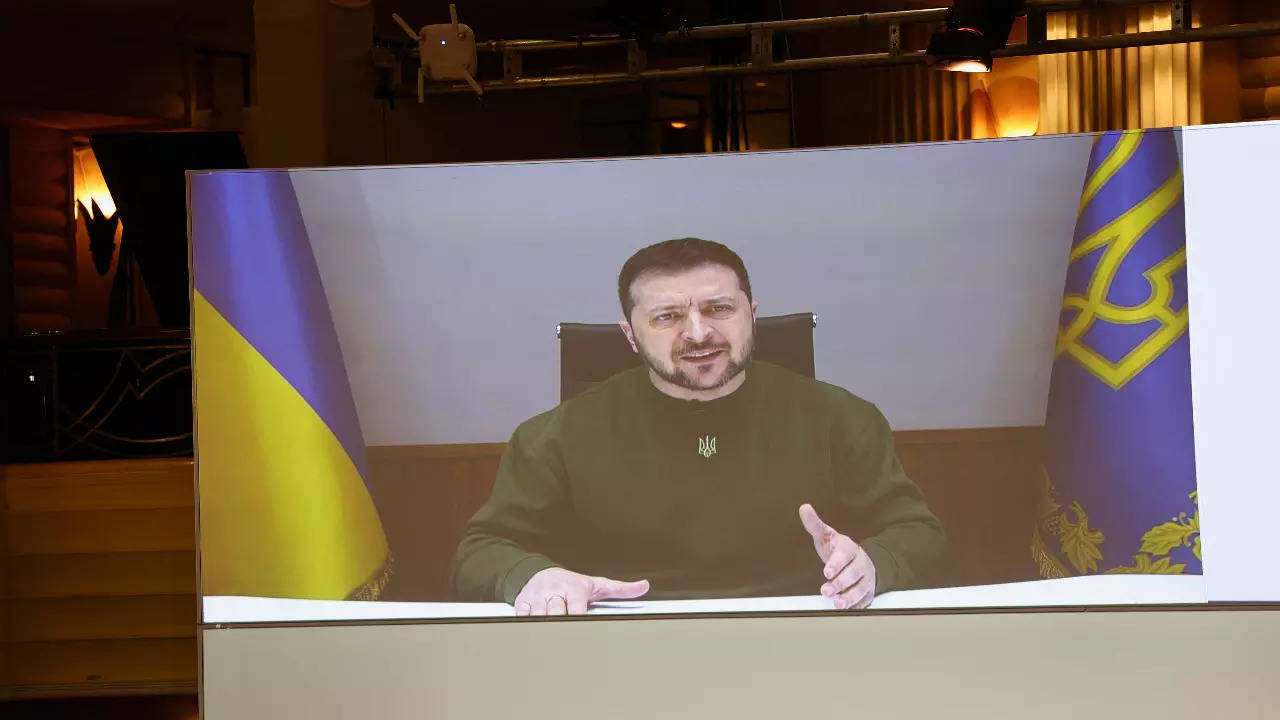 MUNICH: Ukrainian President Volodymyr Zelenskyy on Friday urged allies to speed up sending weapons to defeat the Russian invasion, warning global leaders assembled in Munich that dithering and delays also threatened their security.
Comparing the war in Ukraine to a David-vs-Goliath struggle for freedom, Zelenskyy said Russia was wreaking destruction and plotting to "strangle" Ukraine's neighbour Moldova while Western leaders dragged their feet on key decisions.
Addressing the Munich Security Conference via video link in his trademark khaki green jumper, Zelenskyy said it was "obvious" that Russian President Vladimir Putin had set his sights on other former Soviet countries.
"Determination is never abstract. David defeated Goliath not by the power of conversation, but by the power of his actions," said Zelenskyy, referencing the Biblical tale when the underdog David beat Goliath armed with a sling.
"Delay has always been and still is a mistake," Zelenskyy said, adding "Goliath must lose" for the world to be safe.
Zelenskyy was speaking at the start of the conference where hundreds of politicians, military officers and diplomats from around the world gathered to discuss Europe's transformed security landscape after the Russian invasion almost a year ago.
Zelenskyy's appearance at the same event in 2022 came just days before the outbreak of the war. As on previous occasions, he mixed gratitude for Western help with pointed comments that such help should have come sooner.
In particular, Ukraine is asking for fighter jets and advanced battle tanks ahead of an expected Russian offensive in spring.
"It's obvious that Ukraine is not going to be his last stop. He's going to continue his movement all the way … including all the other states that at some point in time were part of the Soviet bloc," Zelenskyy said about Putin.
The war has reignited long-running debates on questions such as how much Europe should build up its own military capacity, how much it should rely on the United States for its security, and how much governments should spend on defence.
Delegates to the annual gathering focused on defence and diplomacy will also discuss the global impact of the war on issues ranging from energy supply to food prices.
German Chancellor Olaf Scholz, French President Emmanuel Macron and US Vice President Kamala Harris are among those attending the conference, which runs from Friday to Sunday.
Scholz, whose own government has faced criticism over slow weapons deliveries to Ukraine, on Friday urged other European countries to speed up sending tanks to Kyiv after Germany committed to ship its Leopard 2 vehicles.
Moscow not invited
As Russian troops massed on Ukraine's borders last year, Western leaders in Munich had urged Putin not to invade and warned of dire consequences if he did so, while Zelenskiy criticised what he saw as appeasement towards Moscow.
This year, leaders will grapple with the profound consequences of Putin's decision to ignore their pleas and unleash the most devastating war in Europe since World War Two.
"My main message to the people of Ukraine is that NATO allies and partners, we will stand with Ukraine for as long as it takes," NATO Secretary-General Jens Stoltenberg said at the conference. "We will not allow President Putin to win this war, it (would) be a tragedy for Ukraine but also dangerous for us."
Stoltenberg also said China was closely watching the conflict, which would affect decisions in Beijing and was another reason for Nato countries to stand together.
The conference has sometimes served as a barometer of relations between Russia and the West, most notably in 2007 when Putin criticised the United States in a speech now widely seen as a harbinger of a far harsher stance against liberal democracies.
This year, Russian leaders will be notable by their absence.
Conference chair Christoph Heusgen, a veteran German diplomat, said organisers had not invited any Russian officials as Putin had "broken with civilisation".
However, Moscow made its voice heard from afar, accusing Washington of inciting Ukraine to escalate the conflict and saying that the United States was now directly involved in the war because "crazy people" had dreams of defeating Russia.
A US delegation of record size is expected at the conference, including Harris, Secretary of State Antony Blinken and a third of the US Senate.
The conference will also highlight to Western leaders that much of the rest of the world does not see things their way.
Efforts to get African, Asian and Latin American leaders to isolate Moscow have often floundered, due to Russian diplomatic and economic clout and anger in the Global South that the West has shown far less interest in conflict and injustice there.
Relations between the West and China will also feature at the conference.
Top Chinese diplomat Wang Yi is expected to attend and Blinken is considering meeting him there, in what would be their first face-to-face talks after the United States shot down what it said was a Chinese spy balloon and other flying objects.
More than 40 heads of state and 60 ministers were expected at the conference, which coincided with a day of mass strike action at German airports including Munich. While government planes could land at the airport, delegates travelling on commercial flights faced disruption.